Do It Yourself VIN Etching Kits
What Is VIN Etching, And How Can It Help Protect Your Car From Being Stolen and Save You Money On Insurance?
VIN Etching is simply using the VIN Etching Kit shown below, and putting your car's VIN (Vehicle Identification Number) on all of your glass windows in the vehicle. It takes only minutes, and is simple enough that any one in your family over grade school age can do it. You can even do two or three other cars at the same time easily. Your vehicle's VIN can found in the windshield area on the drivers side of your car.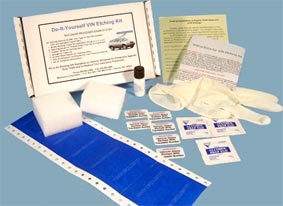 VIN Etching Kits Starting At Only $14.95 For One Car, And Only $4.95 For Each Additional Car
This etched VIN number permanently identifies all of the glass windows in this car with the vehicle and makes it very hard for thieves to sell your car to a "chop shop" or get rid of it by selling it to a third party, because the thief would usually have to replace all of the windows to do this and they don't have the time, money or want the possibility of being caught. So they simply move on to another car and leave yours alone. Police departments and insurance companies have all kinds of statistics showing that VIN Etching reduces car theft by as much as 65% to 97% (depending on what part of the country and on whom did the survey). in any event it is definitely proven that VIN Etching drastically reduces the chances of having your car stolen.
These statistics also show that stolen cars which have VIN Etching are recovered 60% to 85% more often and returned to their owners than non VIN Etched cars. Since this is all true and can easily be proven by very accurate statistics complied by several different agencies the insurance industry wants you to protect your car with VIN Etching. In most cases they will give you a reduction on your insurance premiums of 3% to 15% depending on which insurance company you are working with and where your car is located. You will need to check on this if you are interested in saving money, and most of the time you will save more money by far than the small amount you pay for your VIN Etching Kit.
Your kit also includes a certificate which you can send to your insurance company to show that your vehicle's windows have been properly etched with a VIN so that you qualify for any discounts they may have. This makes it very simple to do in just minutes.
There you have it in condensed version. There is a lot of information and statistics on this subject but they all boil down to one thing that is certain: VIN Etching Works! It slows down the theft of cars by a serious percentage. The recovery of cars that are stolen is 60% to 85%. Don't you want this kind of protection?
It is quick and very easy to do, and best of all our VIN Etching Kits are on SALE RIGHT NOW!
You can probably save much more on your insurance premium by far than this inexpensive little kit will cost you, and you will greatly reduce the chances that your cars will ever be stolen. This is one of the best investments you can possibly make, so why not order one of our VIN Etching kits today? The kits come with complete instructions and almost anyone can etch the car windows in minutes. Now is the time to act.
For more information visit our Video Library and How To Section of our website.
---
Martronics Corporation is an expert in etching and marking metal, multi-tools, craft-stencils with paint, and making rubber stamps.
Save money on your auto insurance. Check out our VIN Etching Kits on sale for $14.95.
Our new Glass Etching Kits let you put your artwork on glass in minutes.
The Etch-O-Matic Marking System is an inexpensive alternative to laser etching and laser engraving.