PRICE LIST
New Glass Etching Starter Kit Only $14.95
Now You Can Start Etching Glass Treasures Without Buying The Entire Kit.
Simply buy this Economical Starter Kit and have us make your stencils for you until you feel confident that glass etching is for you. Here is how it works. You simply create your own artwork, designs, or copy and send it to us by email. We make up the stencil or stencils for you and send them to you. You then etch anything glass such as ornaments, wine glasses, tumblers, pitchers, mirrors, awards, nameplates, beer or coffee mugs, etc. Then give them as gifts or sell them.
When you are confident with your glass etching ability then you will get a $10.00 Discount on any of the Mark U.V. Stencil Making Units (Mark 440, 560, 680 or 1000) you choose by sending us the number on a Special Discount Certificate that is enclosed in each Glass Etching Starter Kit shown below when you purchase a Stencil Maker..

Glass Etching Starter Kit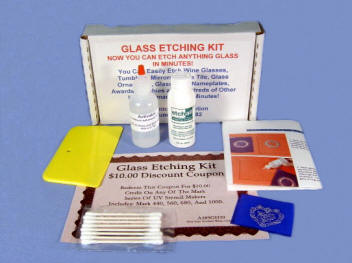 Also, Now As A SPECIAL OFFER You Can Choose One FREE Ornament from The List Below To Put In Your Starter Kit.