Professional 30-Second Glass Etching Cream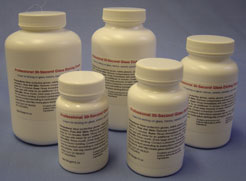 Now you can Etch Glass in 30 Seconds just like we do here in our Plant. For the First time we are offering our Special Professional Formula Cream that is Far Stronger and Much Faster than any Craft Store Glass Etching Cream and it will Save You Both Time and Money. if your time is worth anything, it lets You make the Same Etches in 30 Seconds that now take 5 to 15 minutes with most Craft Store Creams and you can actually Save Money since we are offering our Special Professional 30 Second Cream at Discount Prices. There is only one Caution: This cream has the same ingredients as the Craft Store creams but in Stronger Concentrations so You Must be careful and keep it Away from Children and use your head when using it. We use it WITHOUT Protective Gear and it is perfectly Safe under normal conditions but if you have small children you must take care that they do NOT PLAY with it! That is all there is to it. If you can do this You will be able to use this cream and save yourself Hours of Time and a lot of Money. Check out our Great Special Discount Prices below!
Etchall® Glass Etching Cream
This is the Original Premier Quality Etchall ® Glass Etching Cream. It is very Smooth and Creamy and it allows you to make thin lines on your artwork with ease. Use it to etch designs on glass, mirrors, ceramic, porcelain, marble or slate in 10 - 15 minutes. The cream creates an etched smooth matte finished surface with a texture or "tooth" that can be easily painted with oil or acrylic paints. (Note: will not etch Pyrex®)
Etchall® Dip 'N Etch Etching Cream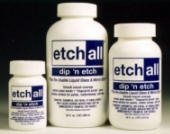 TDip 'n Etch is a re-usable liquid with the consistency of water that creates a beautifully etched, fingerprint-proof, matte finish to any clear or colored glass (except Pyrex®). Objects that have been dipped have a texture that will hold oil or acrylic paints. Try decorative painting your dipped objects. Etchall® Dip 'N Etch is easy to use and the application time is only 15 minutes! Dip 'N Etch will etch glass, mirror, ceramic, porcelain, marble, or slate.