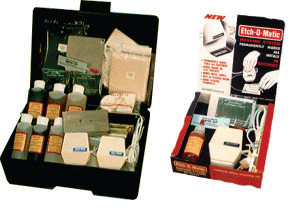 NOW MARK METAL IN SECONDS!
The Etch-O-Matic metal marking system has been on the market for nearly 40 years, and is the easiest to use and least expensive method of permanently marking metal available today. That is why it is used by hundreds of America's largest corporations yet it is still the lowest priced kit on the market today...and it will save you time and money!
Permanently etches or marks metal tools, parts or equipment with your copy, designs or trademarks in seconds for less than a penny per mark!
Why not check it out along with today's special low prices!
Click Here For Details
If you manufacture, use or distribute anything made of metal, then the Etch-O-Matic is for you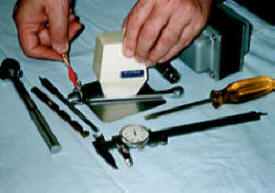 The Etch-O-Matic will permanently mark or etch anything that is made of metal in just a matter of seconds with commercial quality marks. The system is so flexible that you can draw, copy or design anything you want on your computer, and then by using a quick Dura-Film stencil you can mark your tools, parts or products for less than a cent per mark! Nothing else even comes close to this simple, inexpensive system.
Check It Out For Yourself: Etch-O-Matic Marking System
Etch-O-Matic also marks: saw blades, dies, gauges, cutting tools, carbides, drill bits, castings, ball bearings, and all metals including stainless steel, brass, copper, bronze, titanium, aluminum, tool steels, tin, zinc, lead and black oxide coatings.
Detailed Info On All Our New Products
View Catalog
ETCHING GLASS & METAL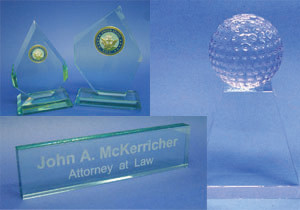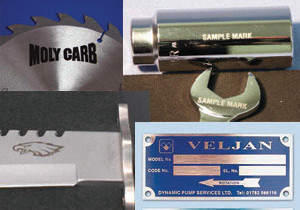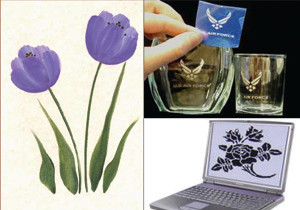 FUN IDEAS & BUSINESS OPPORTUNITIES IN ETCHING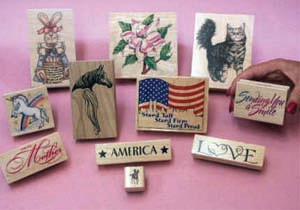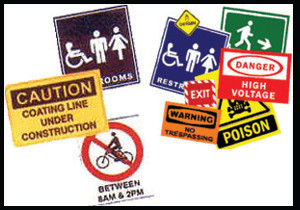 DO YOU PREFER SHOPPING ON OUR OLD SITES?
---
Martronics Corporation is an expert in etching and marking metal, multi-tools, craft-stencils with paint, and making rubber stamps.
Save money on your auto insurance. Check out our VIN Etching Kits on sale for $14.95.
Our new Glass Etching Kits let you put your artwork on glass in minutes.
The Etch-O-Matic Marking System is an inexpensive alternative to laser etching and laser engraving.